Discover more from I Run A Fintech
A short story on the evolving landscape of Fintech in India
I Run a Fintech - Updates (21/06)
Weekly updates on fintech India as it happened!
💬 Join the #IRunAFintech group on Whatsapp to get updates every time I am reading something interesting, updating my blog. We can start a conversation and also share feedback with each other and share our learnings with each other
---
🤓 Events
If you are keen on learning about Account Aggregator Framework (AA), there is a session that is being conducted by Vinay Kesari, who specializes in fintech, tech, law & policy

He will be talking about the Account Aggregator (AA) RBI directive, master direction, about personal data protection current bill, the status of the market

Charges are Rs.599

You can register here
---
📜Quote of the Week
"India Needs Low Cost, High Volume Products, Interoperability of Accounts and Flow-based Lending to Give a Push to Financial Integration" - Amitabh Kant
---
📣Open Role Spotlight
Bharat Pe is on hiring spree across Tech, Risk/Underwriting, Product, Data Science, Finance, HR, Sales (Account Managers), Business Development (Machines/POS), Insurance
A google form needs to be filled where they want you to fill in your details, upload your CV, and provide your current and expected CTC upfront.
---
🏦
Credit Cards and Banking
🚀
Product Launches
SBI YONO has relaunched its Aadhaar based

account opening

facility
It is a paperless, registration with the facility to open your savings account using PAN and Aadhaar and a couple of your application details.

No change in the RBI guidelines on opening a full KYC account digitally, so this account will continue to have limited functionalities. You will still have to visit your nearest SBI branch to access extended features.
Bajaj Finserv has launched

pocket insurance

across various categories starting from Rs.79/year
Some interesting insurance products here:

Spectacle Insurance

Key Replacement Insurance

Wallet Care Insurance

Trek Insurance

Domestic Holiday Cover

Pilgrimage Cover

Home Appliances Cover like TV, Washing Machine, etc

Mumbai Local Train Cover

I like how they are decoupling the use-cases and creating products around it.
---
💻
Fintech
🚀
Product Launches
Instamojo launches

premium store

on their platform for small businesses at a monthly charge of Rs.799
An eCommerce store that can be entirely managed on Instamojo platform, which includes hosting + design + inventory management + payments + customer CRM
This is a great extension to their platform, which will empower SMEs and new-age businesses to spend less time building websites and focus more on expanding their user base and creating better products.
Paytm is really at the frontline of contactless product innovation.

A QR code-based payment service which will be provided to the passengers in the bus across various places combined with Paytm Soundbox

It would be interesting to know how Paytm is going to scale since it would require experimenting with high-velocity onboarding and offboarding buses in high-density cities
Paytm upgrades

postpaid services

for kirana stores upto Rs. 1 lac
Last week I mentioned how Paytm has extended its postpaid services to kirana stores for the customers.

The extension has been made with a limit of Rs. 1 lac which means you can buy your groceries on credit across kiranas and various other supermarkets like

Reliance Fresh

Apollo Pharmacy

Shopper's Stop

Croma

Haldiram's

Their postpaid product has three variants (interesting name in the variants)

Lite

Limit of Rs.20,000 with convenience charge between 0% - 4% on monthly spends

Delite & Elite

Both will have a limit between Rs.20,000 and Rs.1 lac with no convenience charge, however, there is no information on how they are differentiating between Delite and Elite
Paytm launches two products to

increase

frictionless payments for merchants
Earlier when you had to make a payment via Paytm, it would redirect you to a web-URL to show you all your accounts or your wallet balance.

The introduction of SDK and Blink Checkout (a JS script) will load all your Paytm accounts within the same screen so that you can select the pre-configured mode of payment (it could be your wallet, cards, net banking, postpaid)

Demo of All-in-one SDK
Cred quietly launched lending as a feature (Stash) on its platform
CRED has quietly Beta'd personal loans on its platform to a small set of users basis some pre-approval criteria set by their banking partner.

The process is smooth, in few steps (literally), you could get a loan up to Rs.4 lac into your account by just :-

Pulling your cKYC records

Selection of EMI

Setting up Auto-Debit account

The product is priced at an interest rate of 14.5%, and it seems to be in partnership with IDFC First Bank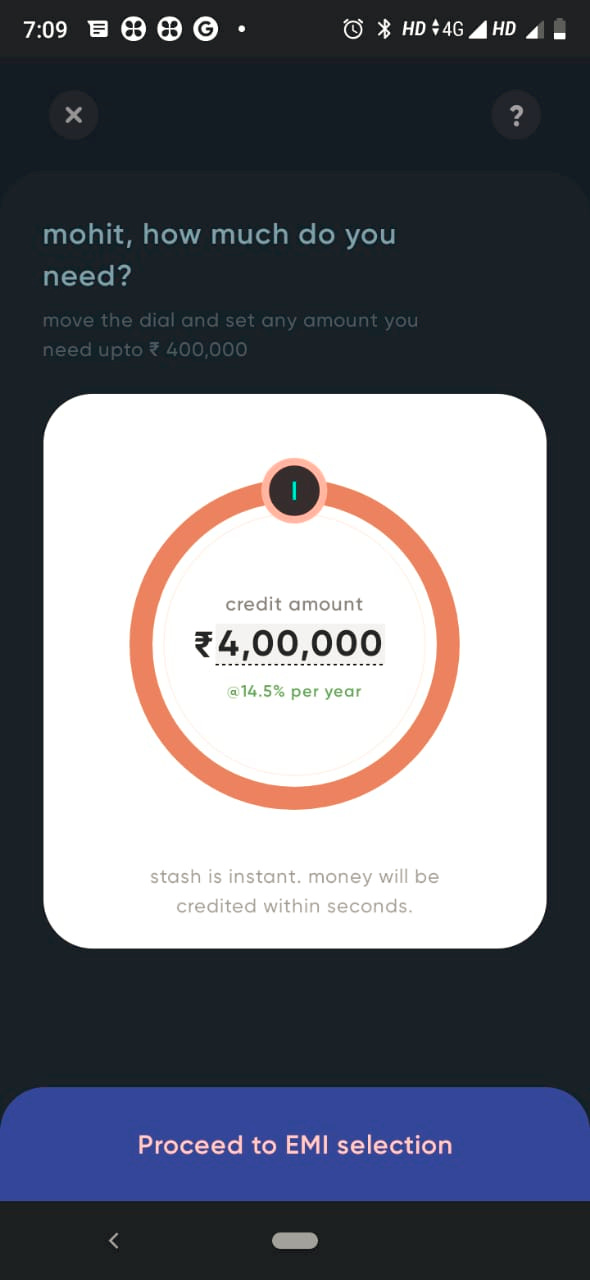 OneScore App has launched its flagship product Metal "OneCard" Credit Card
It's an invitation-only card to a selected set of users

The card is in partnership with Visa

There is no joining fee

And this is what the registration looks like
Mobikwik has launched

"Biller Stack"

a PWA (Progressive Web Application) and partnered with Flipkart, Ixigo, Snapdeal 
The biller stack enables users to make utility bill payments directly from the Ixigo, Snapdeal, and Flipkart app.
PWA (read Paytm Blink Checkout) has picked up where different players are launching SDKs and JS-based in-app integrations to increase usage of their products within the existing partnership apps.
💲 Funding
Rural Fintech startup

Jai Kisan

raises Rs 30 cr from NABARD-backed fund
Jai Kisan has built products for rural India where it provides financing for equipment, contractors, invoice financing for dairy and poultry players.
GetClarity Fintech Services is a blue-collared financial services provider raised a round of $1m
It's a PFM (Personal-Finance Management) platform that helps blue-collared employees to meet their monetary and non-monetary goals like saving money for retirement, buying a house, investing in tax saving instruments, etc.
GoldenPi

raises Rs 3.5

crore funding from Zerodha-backed Rainmatter Capital
Zerodha's incubator fund called Rainmatter Capital invested in GoldenPi which curates lists of "AAA" to "A" debenture bonds for investors
🔑
Mergers and Acquisitions
Infibeam Avenues

acquires

100 pc stake in corporate credit card issuance firm Cardpay Technologies
Infibeam Avenues which is a parent company of CC Avenue & Bill Avenue has acquired corporate credit card provider and spend management platform - CardPay Technologies for $1 million
InCred

acquires

fintech platform Qbera
At $10-15 million deal, Incred acquired Qbera to expand its distribution portfolio.
Last year, Qbera had posted that they had disbursed Rs.100 Cr ($13.9 million) of personal loans on their platform
😎 Read more
---
Hey, you made it here!

If you liked the content, you can buy me a coffee as an appreciation for the newsletter!

And do take out the time to leave a comment, share, and subscribe to the newsletter.
Disclaimer: The newsletter contains information about Fintech and Organizations that operate in or around the fintech industry. The information is not advice, and should not be treated as such. Without prejudice to the generality of the foregoing paragraph, we do not represent, warrant, undertake, or guarantee ... that the information in the newsletter is correct, accurate, complete, or non-misleading. We will not be liable to you in respect of any special, indirect, or consequential loss or damage. If a section of this disclaimer is determined by any court or other competent authority to be unlawful and/or unenforceable, the other sections of this disclaimer continue in effect.