Discover more from I Run A Fintech
A short story on the evolving landscape of Fintech in India
Good Morning,
Apologies for being radio silent for last 3 weeks. I shall be back with regular updates from this week onwards.
Today's issue is dedicated to one of those companies that has taken a big leap forward into building a holistic health tech solutions with an aspiration to provide affordable and accessible healthcare the way they evangelized affordable financing. The company I am talking about is Bajaj Finserv.
If you do like the issue or the newsletter, do share it with your friends & colleagues by either forwarding the email or sharing the link from below
---
Credit Cards & Banking
🚀Product Launches
Bajaj Finserv enters healthtech solutions business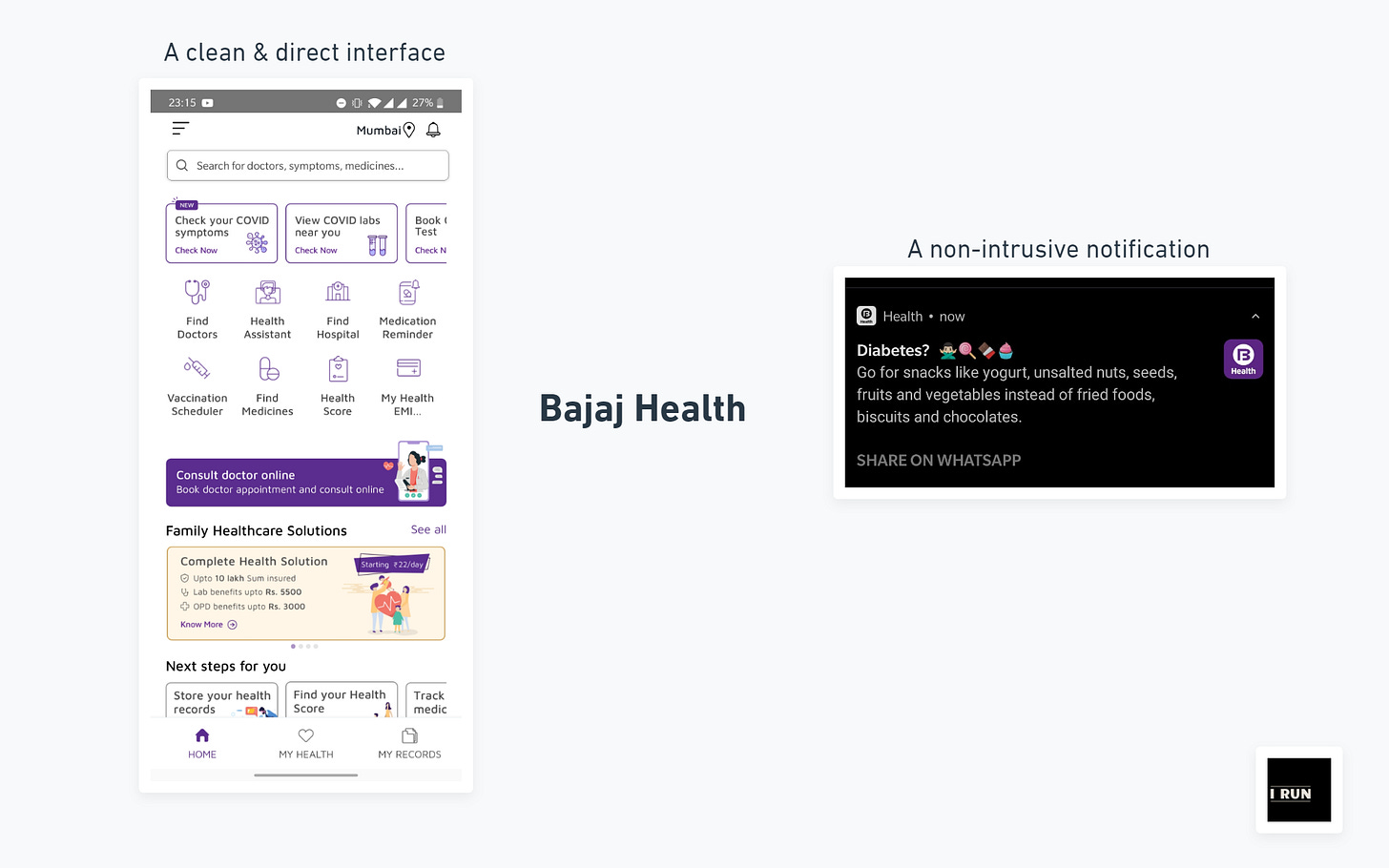 While we were spending time debating about PayTM & Google's spat about delisting of the app and launching of Atmanirbhar App Store, Bajaj Finserv spun off a new mobile-first business and launched it for their entire consumer base of 110 million called Bajaj Finserv Health, a wholly-owned subsidiary of Bajaj Finserv.
We hear tech businesses moving into financial services but how often do you hear a financial services company venturing into a tech business?
Which is why I have always admired Bajaj Finserv. If you have ever visited their HQs, it's buzzing full of energy with folks so deeply involved and dedicated to building the future of India. Their dedication to use technology and leverage data has put them at the forefront in creating innovative products and solutions for the market and you can see that from their explosive growth in the last 7 years.
Bajaj Finserv Health Limited was incorporated, in July 2019, with the vision to become the sole health care provider for the Indian customers.
In December 2019, they quietly launched couple of products called "Managed Care" and "Bajaj Health EMI Card".
"Managed Care" is a comprehensive offering for health management and comprises of benefits of primary healthcare like OPD consultations as well as lab tests along with loyalty and application benefits. It also includes widely covered hospitalization insurance.

Couple of issues ago, I had touched upon how Bajaj had partnered with various hospitals to launch their digital health EMI card which would help you convert your hospitalization costs into EMIs . This was in partnership with over 1000 hospitals and 5,500 lifecare partners.
You could say that Bajaj health EMI card product behaviour is very similar to an EMI card that you get from Bajaj after you complete a consumer durable purchase & show good behaviour for couple of months). The significant advantage that Bajaj has in issuing this product is to tie the usage of the loan to a specific end-use. This helps them segment their customers further to understand finer patterns of behaviour to optimize their scorecards.
Their launch video was nothing short of glamorous. I believe this was one of the first attempts made by an Indian company to digitally launch their products into the market.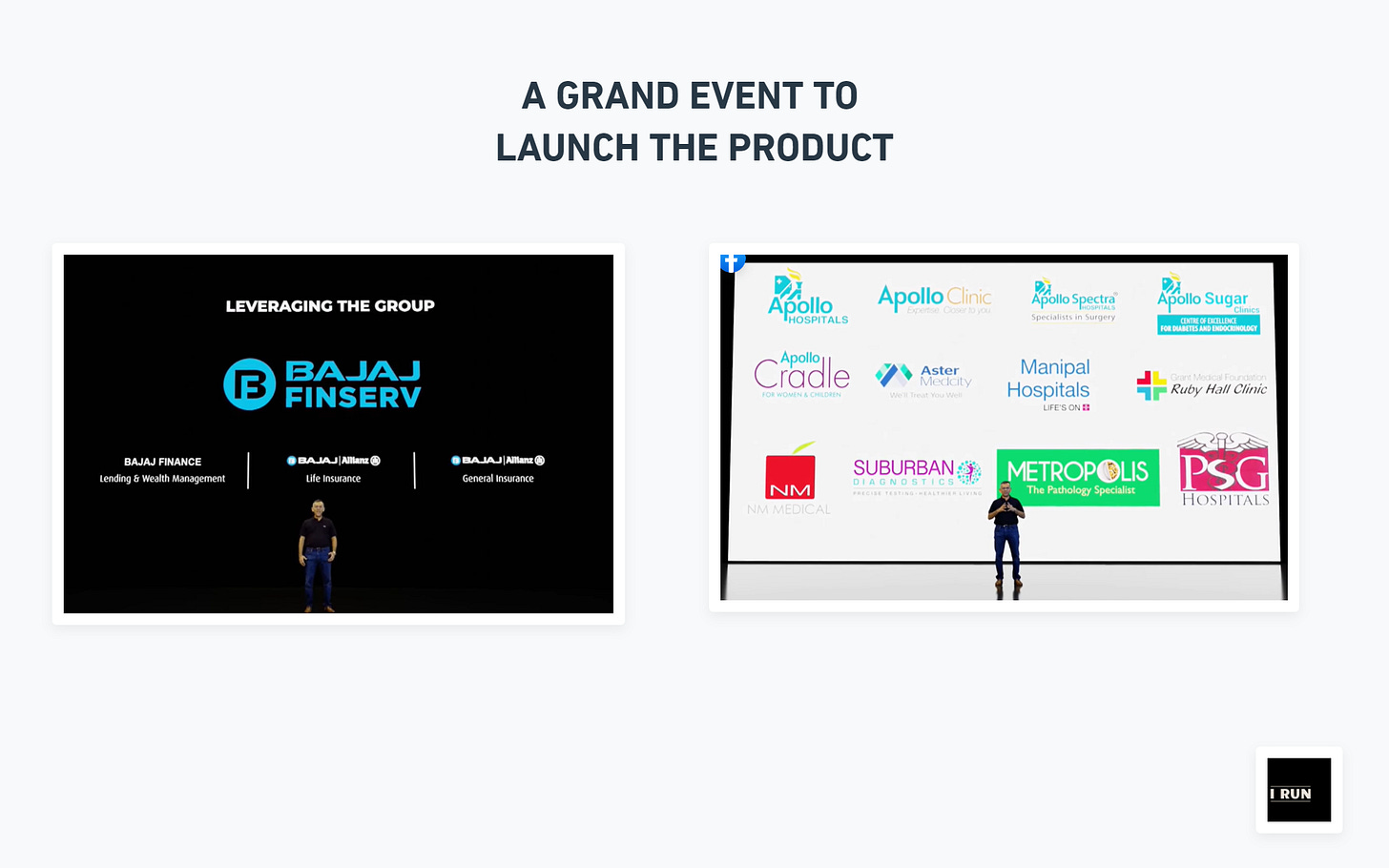 An excerpt from their launch video suggests that, they have identified couple of scale-level problems in the Indian market today
Disaggregation of health sector
Health sector is largely distributed and chaotic where service providers like practitioners, diagnostic centres, pharmacies, loan companies, insurance companies are all working independently.
High Out of Pocket Expense
65% of Indian's healthcare expenditure comes out-of-pockets. When you compare with other countries like China and Indonesia, India's out of household pocket expenditure is almost 1.7 times
India ranks 145 out of 197 in the Global Health Index in quality & accessibility of health care based on 32 causes of death
So what is Bajaj trying to solve?
Bring all the disassociated services under one platform

Unbundle, curate and personalize the services suited to the customer and their family

Make healthcare affordable by reducing the cost of health expenditure by providing low cost products like Health Card, Health Insurance (specialized as per your profile) and Health EMI Card

Make healthcare accessible by providing doctor consultations (via tele-calling / video-calling) & delivery of medicines*
*Delivery of medicines is in the pipeline
Bajaj Finserv Health is going to distribute and disseminate all of this via its massive network it has built from it's group companies which includes:
Bajaj Finance's 100,000+ network partners

Bajaj Allianz's 5,000+ partners

Over 120+ Hospital partners

9000+ empanelled doctors
Right now, they rolled out the offering to 30 top-cities and plan to move inwards into other cities over a period of time.
Core Proposition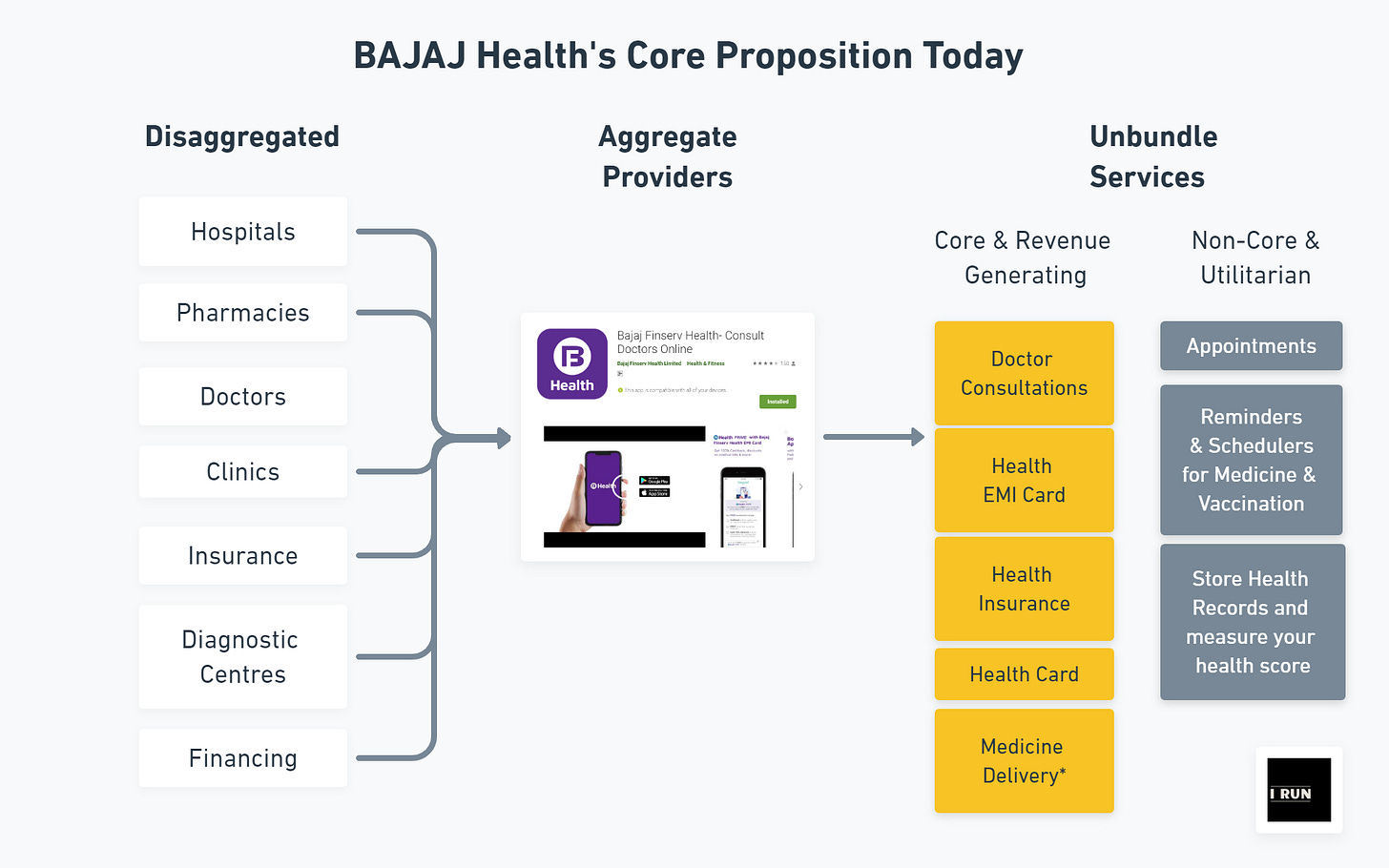 On their mobile application
The first thought that comes to our mind would be that, the idea is to increase the conversion of the products they have listed. But when I deep dived into their user experience like push notification, in-app experience. The brand has been created to develop trust first, get you into the habit of using the application.
The features in Bajaj's app are segregated into two parts
Core & Revenue Generating
Features like Doctor Consultations, Health EMI card, Health Insurance & Health Card.
Apart from Doctor Consultations and Health Card, Health EMI Card is going to be owned by Bajaj Finance whereas Health Insurance is going to be issued by Bajaj Allianz General Insurance.
Non-Core & Utilitarian
Features like Reminders to take medicines and vaccinations for kids, storing health records and measuring you health score.
These utilitarian apps have been targetted to make sure you retain the app for a long time by building utilities which are not only important but critical for day-to-day activities whether it is a reminder to take medicines for your family members or vaccination for kids, these make the application essential to keep.
I enjoy the concept of aggregating, unbundling and curating the current services which are personalized to a cohort of customers.
Here's where things will get interesting, Devang Mody (CEO of Bajaj Finserv Health), did mention that they are not in the business of providing health care to the customer but in the business of providing a platform which will make these services accessible.
What will remain unique to Bajaj Finserv is their capability to personalize their own products for the customers which is their Health EMI Card & their Health Insurance. We would end up seeing some really innovative products in the next couple of months which will turn the business for them. This is because they will end up having immense amount of data on customers using the application in various ways creating use cases that will bring in some new perspective.
These brings up two key points. Bajaj Finserv Health is into two businesses here.
They are aggregators where their core focus is to bring as many partners as possible and unbundle their services for the customers which will attract new customers & integrators where their core idea will be to maximize their integrator business (Health EMI Card & Health Insurance) to increase ARPUs on their customer base.
You can read more about aggregation theory here. If you would like me to deep dive into this concept for the Indian market, you can write me back on my email.
Conclusion
Bajaj Finserv Health also mentioned that they will be integrating the Digital Health ID when it releases for the market & That also includes integrating registries of all the medical network where they will become the health information users.
I wouldn't be surprised anymore if Bajaj Finserv Health also partners or comes out with smart wearables that will be coupled with your health services.
With massive distribution network and a tech-centric solution, is this going to be another sector that Bajaj Finserv going to disrupt?
---
Feedback
Hey, you made it here! If you liked the content
You can follow me on linkedin . twitter
💬Do take out the time to leave a comment, share, and subscribe to the newsletter.
☕ You can buy me a coffee as an appreciation for the newsletter!
Disclaimer: The newsletter contains information about Fintech and Organizations that operate in or around the fintech industry. The information is not advice, and should not be treated as such. Without prejudice to the generality of the foregoing paragraph, we do not represent, warrant, undertake, or guarantee ... that the information in the newsletter is correct, accurate, complete, or non-misleading. We will not be liable to you in respect of any special, indirect, or consequential loss or damage. If a section of this disclaimer is determined by any court or other competent authority to be unlawful and/or unenforceable, the other sections of this disclaimer continue in effect.