Discover more from I Run A Fintech
A short story on the evolving landscape of Fintech in India
Issue #7 - I Run a Fintech (12/08)
Running Commentary on Fintech as it Happened!
Good Morning,
We have reached 5️⃣ 0️⃣ subscribers. I know it doesn't sound like a great milestone, but it does give me confidence that you believe in the content I write and helps me to continue writing more.
I couldn't thank you all enough! 🙏🏻
If you have any feedback, whatever it could be you can write me back by hitting the reply on the email that comes to you. I get an email directly into my inbox.
I am constantly working on improving curation, content quality, and adding new sections to cover as many topics that happened in the week.
I have added a new section called Emigrate; Immigrate which is metaphorical for people (in banking or fintech) moving out or into new companies basis the feedback I received on the WhatsApp group
You can now visit this blog by just typing:

Moving on to last week's updates!
---
📣Open Role Spotlight
CrediWatch, a B2B company that provides Banking-as-a-Infrastructure is hiring a Test Engineer

Fincare, a small finance bank is looking out for Manager in Digital Technology
---
Credit Cards & Banking
💪Partnerships
SBI Cards and IRCTC have launched a co-branded credit card on RuPay platform
Three giants have come together to launch a product catering to the mass market
SBI Cards

IRCTC

RuPay Network (managed by NPCI)
The features of the card have been created to incentivize customers who are frequent travelers. The card provides
Up to 10% cash-back on booking AC1, AC2, AC3, AC CC bookings from irctc website

Fee waiver for booking on their website

There are a lot of eCommerce and retail discounts that will be offered if you would use the card on those platforms like BigBasket, ajio, etc
SBI Card's acquisition strategy strongly relies on the partnership model across various categories. They have 63 variants of cards today in the market out of which over 90% of them are partnership cards against the HDFC Bank's 50 variants who are the largest issuers of credit cards in the market.
This is not the first partnership between SBI Cards and IRCTC, they have already issued 2 cards with the Visa Network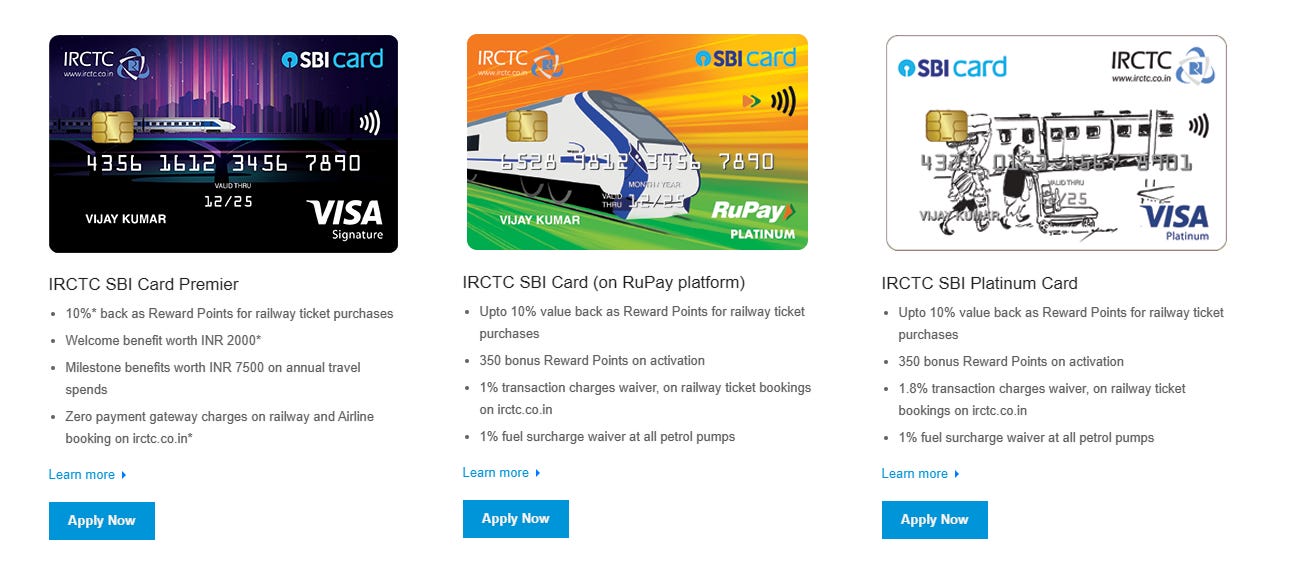 So why RuPay?
For that, we need to look back at RBI's vision set in 2009 where they had asked the Indian Bank Association to create a robust, secure and cost-effective network scheme which had a domestic setter rather than international one so that there is more control on how the prices are to be set.
This is mostly to break the monopolistic schemes of Visa and Mastercard.
Since then, 14 banks have launched credit cards on the Rupay platform to increase the usage of Rupay network
---
Fintech
🚀Product Launches
PayTM Money launches stockbroking on it's platform
Just to give you perspective, India has a total of 50 cr smartphone users and 1.2 Cr Active traders out of which, Zerodha has 19 lakh active traders today, followed by UpStoxx having 7.7 lakh users and 5Paisa having 5.5 lakh users, HDFC Securities has 7.5 lakh active traders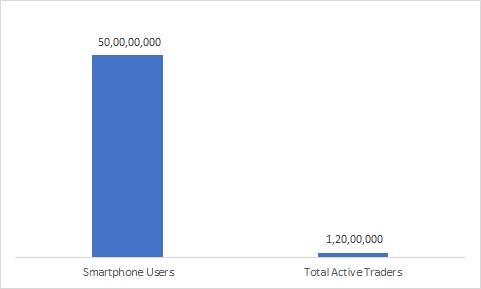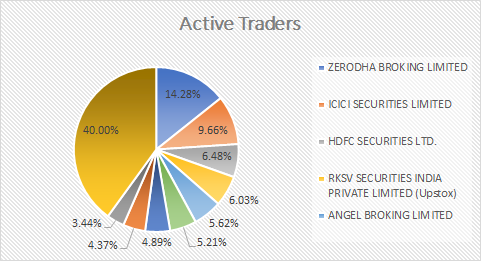 PayTM got their license last year in Dec,2019 and they rapidly built the stockbroking platform to launch it right before the festive seasons.
According to one study the market shows higher volatility right before the festivities. Another study shows that there is a strong correlation during the month of December, where the market shows higher volatility than rest of the holiday seasons, which brings me to PayTM who will be using these 6 months to acquire customers and iterate with features that will stick the customers to their platform.
A player like Paytm (with its massive reach) can definitely expand the horizon for the market and bring in new traders, said Nithin Kamath, chief executive officer, Zerodha.
And I agree, with PayTM's reach currently at 35 cr (350 million) users, it can fill this gap with a lot of new users that want to invest but never knew the ways they could do it.
Is it profitable?
Zerodha is currently a profitable company where they logged a profit of Rs. 2 billion ( $28 million at Rs.71) last year which means that PayTM strategy to increase it's stickiness and ARPU will definitely happen in the following years.
Whatsapp has launched Pay on it's platform
After a long judiciary hold-off, Whatsapp, a Facebook subsidiary, soft-launched the UPI payments on its platform. The information is already listed on the NPCI's website.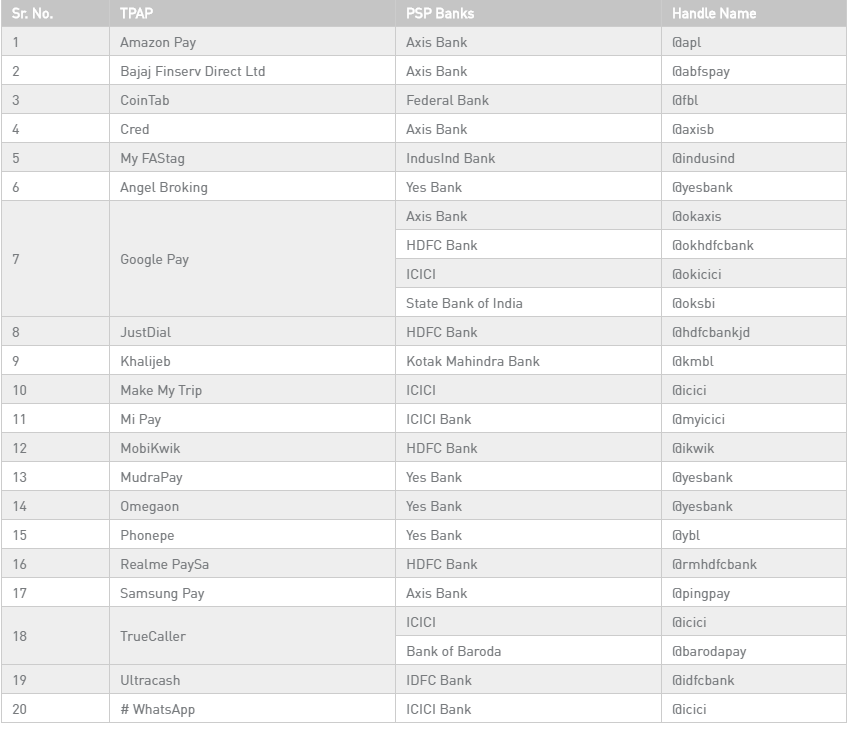 If you haven't used them before and you are thinking about why another payment platform?
According to research done by BCG with 3 lac SME businesses of India, 50% of the SME businesses would transact over Whatsapp if it gets introduced, because of convenience.
A large proportion of the 60 million SMEs in India operate their business on Whatsapp and having the capability to make payments on their platform decreases their friction points to do business.
MSwipe has bundled their existing products to create a new category called "Bank Box"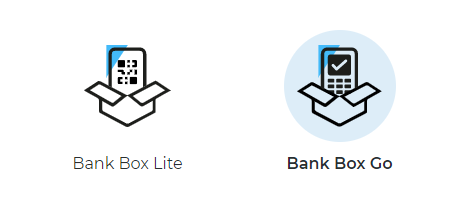 MSwipe, one of the leading POS (point-of-sale machine) company introduced a category in their product suite called "Bank Box".
Two sub-categories called "Bank Box Lite" & "Bank Box Go".
Bank Box Go is a bundle of their mPOS Wisepad(Go), All-in-one QR code & MoneyBack Card for the merchants
Bank Box Lite is a bundle of All-in-one QR code & MoneyBack Card for the merchant
These are not the value proposition, the value proposition is that there is zero MDR (Merchant Discount Rate) as per an article which means that the merchant will receive the full amount from the customer when a transaction is done on the MSwipe POS or All-in-one QR.

Second, if you must have noticed, when you want to make a payment via your card, a POS machine that a merchant uses and the QR-code facility are of different businesses. The solution providers do not get a complete picture of merchants' transactions, which limits them to build new products for the market. mSwipe's Bank Box Go is a great move because this will provide them complete visibility of all the digital transactions that are happening on the merchant's platform
A couple of weeks ago, BharatPe had introduced zero-MDR as well on their platform to entice merchants to use their platform and to move transactions from offline to online
💪Partnerships
Mutual fund platforms tie up with Amazon to offer saving products to customers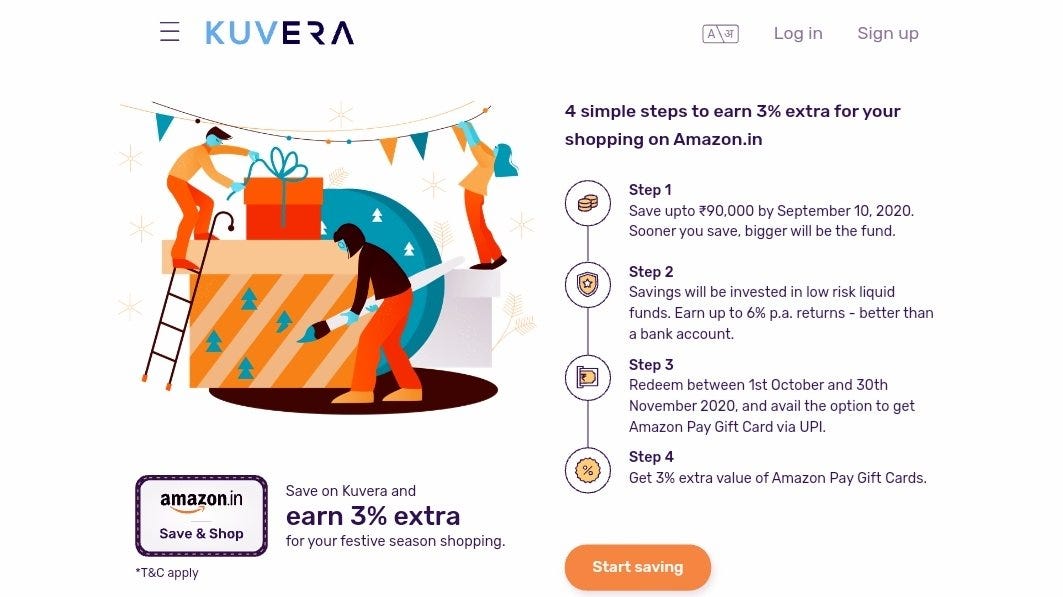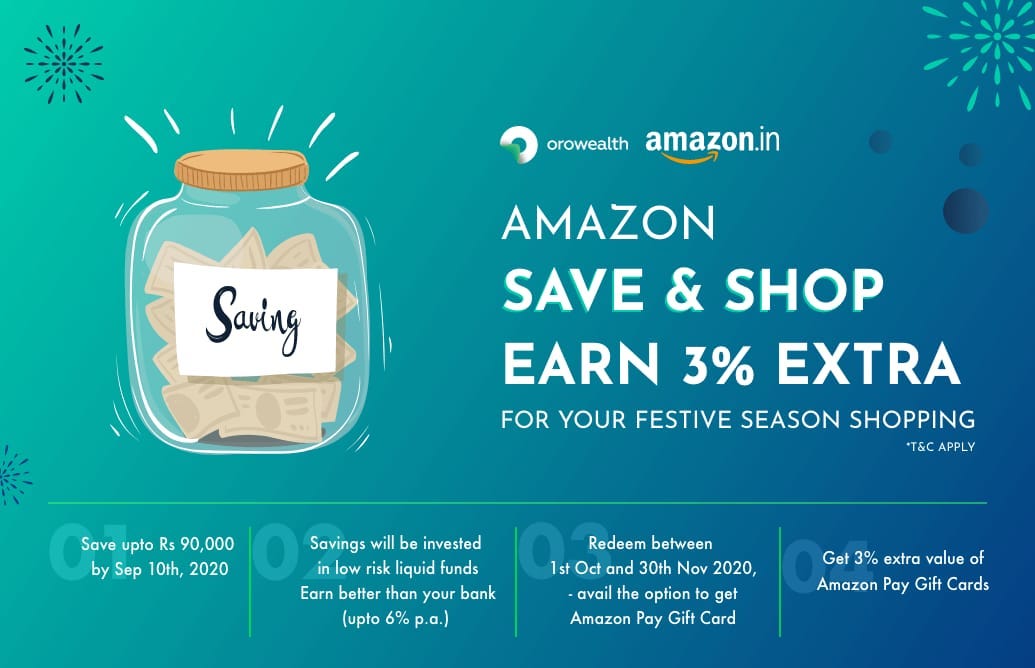 This one gained media attention for the wrong reasons, however, I am putting it out here because the way it was marketed was interesting.
Kuvera and Orowealth (online mutual fund investment platforms) ran a campaign in partnership with Amazon where they were incentivizing customers with a gift card which was 3% of your investment of Rs. 90,000.
They could have stopped here.
However, the scheme claimed that, if you invest Rs.90,000 before 10th of September 2020 and redeemed between October,2020 and November,2020 then not only will they assure a return up to 6%, the Amazon gift card is applicable for that period
😕 But Why? You just promised a 3% return from Amazon gift card, that was an assured return. You need not talk about anything else.
Aren't mutual fund investments are subject to market risks. Please read the offer document carefully before investing.
Verified Professional Identity Platform SpringRole Integrates RazorPay to Accept Fiat Payments to Process Blockchain Transactions
SpringRole, a self-verification platform created for profile verification, referrals paybacks have integrated with RazorPay to accept payments from customers in Indian Current (Fiat Currency which means the government-issued currency that is not backed by any commodity).
So what exactly is this?
When you are applying for a new job, there are various verifications that need to be done by your prospective employer about you against various categories. SpringRole, provides the same to either self-verify by paying to the agencies and have the company verified on their portal. The advantage? It sits on the blockchain ledger and can be retrieved and logged when some other use-case arrives.
"Background verification has traditionally been a process initiated by the employer, but we're now seeing job seekers actively trying to verify their resumes in order to stand out from their peers when looking for a job. This is in addition to the trend of the gig economy workers looking to verify themselves to make their profiles stand out in their search for projects. As companies are looking to reduce time and effort with hiring, having a fully verified profile definitely helps give these candidates an edge compared to their peers," said Kartik Mandaville, CEO Springworks, a graduate of Carnegie Mellon University.
"We're seeing some other interesting use cases for the B2C verification platform. Apart from job seekers and freelancers, it is being used by visa applicants and, even people looking for marriage alliances. Integrating RazorPay for payments within SpringRole has allowed us to bring the power of blockchain technology to the common user," said Anoop Suresh, VP - Business & Operations, Springworks.
I am still scratching my head on self-verification for jobs.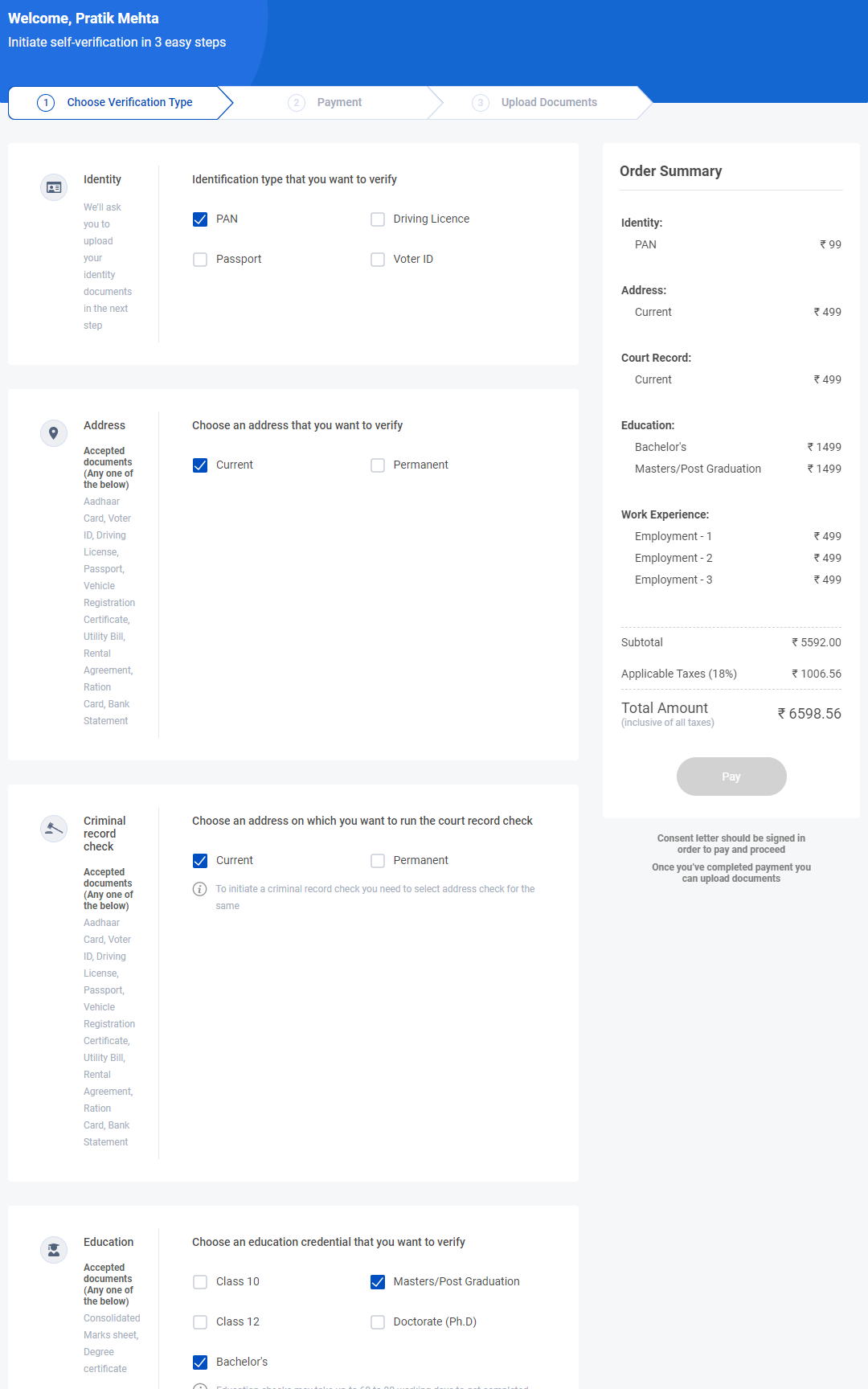 ETMONEY partners with Bajaj Finance to offer hassle-free online FDs with up to 7.35% returns
ETMoney is offering Bajaj Finance's Fixed Deposit to it's customers on it's platform with an attractive interest rate upto 7.35% (7.2% for non-senior citizens)
For ETMoney, this is the 5th Financial Institution they have partnered with along with SBI, ICICI, Axis and HDFC Bank.
Why is Bajaj Financing offering a higher interest rate than the market today?
NBFC (Non-Banking Financial Company) typically offers better interest rates than the banks, because they are considered to a riskier institutions than banks and usually are under pressure to raise funds from the common investors like us to reduce the cost of borrowing.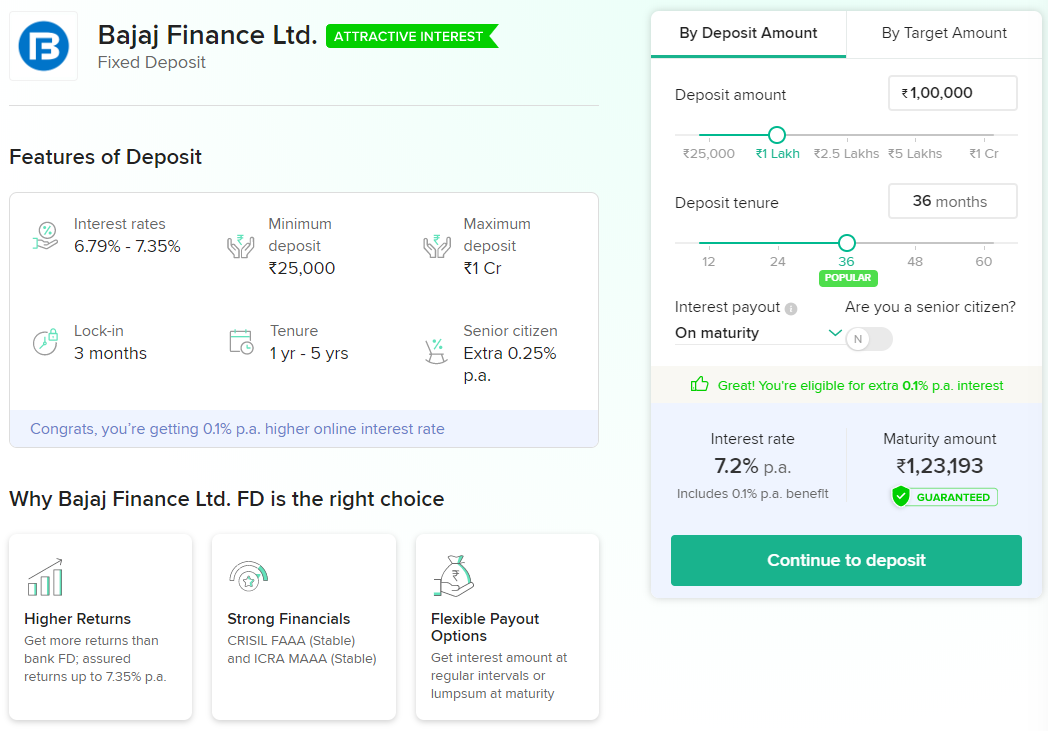 💲Funding
Fintech platform Crowdpouch raises angel funding from Elina Investments
Crowdpouch Marketing Services Pvt Ltd, a platform that enables artists and entrepreneurs to launch a product through pre-selling or fundraising, has raised angel funding.
The Bengaluru-based company has raised this capital from Elina Investments.
Elina, which concentrates on early-stage bets, was founded by Syed Safawi and has invested in companies including GoMechanic, PadUp, Zefmo Media, and Tarnea Technology.
The sum involved in the deal was not disclosed.
Crowdpouch, set up by Vittal Ramakrishna, says it will use the funding it has raised for product development, as well as branding efforts and expanding its team.
"Through Crowdpouch, our vision is to create a niche fundraising ecosystem where all essential factors culminate seamlessly to build a nation of dreamers and achievers," Ramakrishna said.
Elina director Divyendu Kumar said that the firm was confident of its bet on Crowdpouch because of its potential to democratize fundraising opportunities in the Indian market.
Crowdpouch is among a handful of crowdfunding- and fundraising-focussed financial-technology startups operating in the country. These include Ketto, Wishberry, ImpactGuru, and Crowdera.
🧐Peek-a-Fintech
SPenny 'early beta'd' their first product for customers to save everytime you spend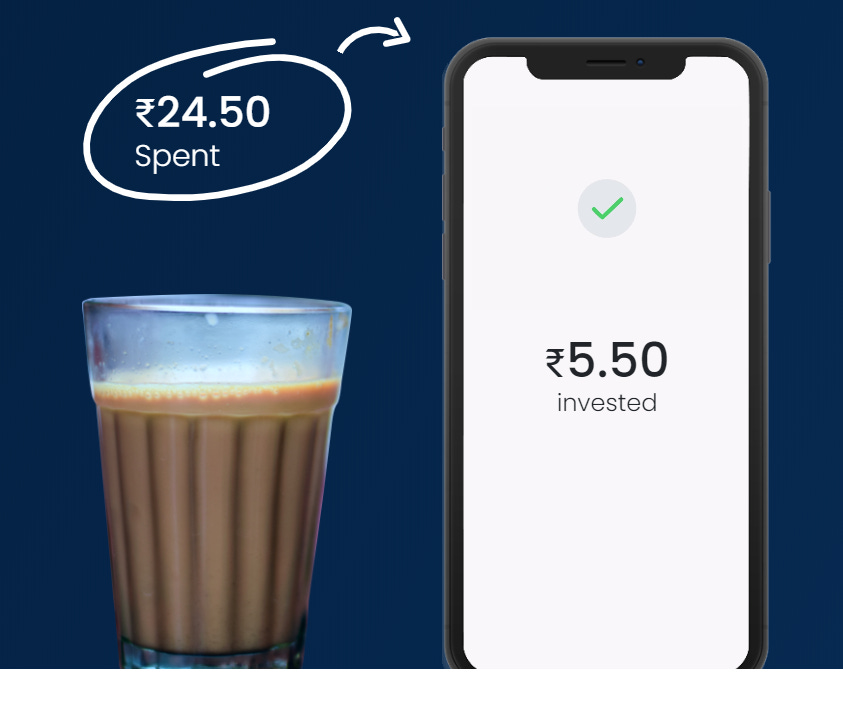 SPenny's proposition is that it will take care of your investment every time you spend by rounding up your transactions to the nearest 10,20,50 or 100 Rs. investing into a liquid mutual fund managed by ICICI Prudential today.
The proposition is to take advantage of three types of segments
The young segment, who don't find investing a great proposition, however will be forced to (if pushed by their parents)

The busy people who forget about investing their money

The lazy folks who procrastinate investments
However, I think with the limited information available on their website, you have to use their card to make the investment work which in my mind, seems to complicate the mechanism of automating payment.s
---
Emigrate; Immigrate
Paytm appoints Bhavesh Gupta as CEO of its lending business. Before PayTM, Bhavesh Gupta was the CEO & Founding Member of Clix Capital. Clix Capital had partnered with PayTM for its PayTM postpaid business.

GiveIndia appoints Scripbox Co-Founder, CEO Ashok Kumar ER as president

PNB Housing Finance appoints Hardayal Prasad as MD & CEO. Mr.Hadayal Prasad was the MD and CEO of SBI Cards prior to this.
---
Good Reads
How COVID Pandemic will accelerate digital financial services by 11 FS

Banking as a Service: reimagining financial services with modular banking by 11 FS
---
Feedback
Hey, you made it here! If you liked the content
💬Do take out the time to leave a comment, share, and subscribe to the newsletter.
☕ You can buy me a coffee as an appreciation for the newsletter!
Disclaimer: The newsletter contains information about Fintech and Organizations that operate in or around the fintech industry. The information is not advice, and should not be treated as such. Without prejudice to the generality of the foregoing paragraph, we do not represent, warrant, undertake, or guarantee ... that the information in the newsletter is correct, accurate, complete, or non-misleading. We will not be liable to you in respect of any special, indirect, or consequential loss or damage. If a section of this disclaimer is determined by any court or other competent authority to be unlawful and/or unenforceable, the other sections of this disclaimer continue in effect.