Discover more from I Run A Fintech
A short story on the evolving landscape of Fintech in India
This Week in Fintech (14/6)
Weekly updates on fintech as it happened!
💬 Join the #IRunAFintech group on Whatsapp to get updates every time I am reading something interesting, updating my blog. We can start a conversation and also share feedback with each other
---
🏦 Credit Cards and Banking
🚀 Product Launches
Bajaj Finance has introduced a

digital health EMI card

capitalizing on these times where you can convert your healthcare costs into friendly EMIs
Features

Covers 800 treatments, 5,500+ lifecare partners and over 1000+ hospitals

Applicable to only existing Bajaj EMI cardholders

The card will offer 2-4 times of limit of what you have for your current EMI card

Applicable for the entire family

Notes

This proposition seems to be a great fit for those existing customers of Bajaj who lack the funds to purchase insurance for the entire family

Bajaj has an existing base of 4 crore customers with an eligible pool of 50% (as of Q4 FY20)

The customers who subscribe and use the product will not only help Bajaj expand their business and portfolio but also strengthen their risk assessment and data analytics capabilities as it ties to a an end-use case

Source: https://www.bajajfinserv.in/bajaj-finance-q4-investor-presentation-pdf.pdf
---
💻Fintech
💹 Growth
Paytm Payments Bank

has announced a 55% jump in profit after tax as it registered profit for the second consecutive year.
A couple of interesting numbers here:

The average deposit per customer is Rs.172

The average transaction value is Rs.948

Their PAT margin is 1.4% of the total earned revenue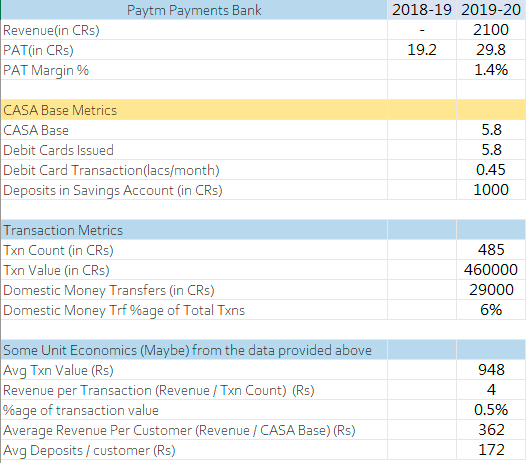 The May Stats look something like below

Transaction Count: 123 Cr

Transaction Value: 2.18 lac Cr

Average Transaction Value: Rs. 1,023

Google Pay leads the P2P (Person to Person) transactions. It could be because they have marketed that as their primary proposition.

Amazon Pay is trailing very closely behind PayTM and seems to be catching up with the P2P transactions space. Amazing to see that Amazon which is primarily an eCommerce Platform is making it's way into the payments space whereas rest of the players are payment platforms expanding into a multi-utility platform

Interesting to note: PhonePe dominates the P2M transactions

I think the reason behind their growth could be a robust tech stack, lower transaction failure rates and a very clean and intuitive UI/UX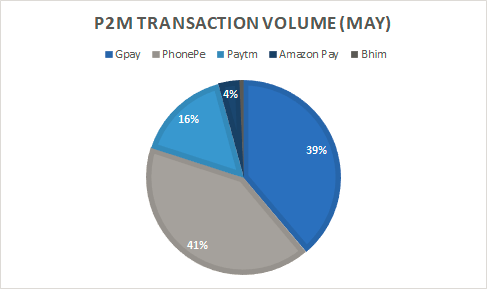 ---
🚀Product & Feature Launches
RazorPay's NeoBank Arm -

RazorPayX

has launched payout links that automates transfers to customers without bank details
So merchants can now send a link to the customer over SMS or any other delivery medium, ask them to provide their bank details and the money shall be transferred into their account

Very similar to what Kotak had introduced back in 2013, wherein you could send an SMS to the customer to fill in the bank details to push the money into their account

It would be important that customers are made aware that the link is more to do with getting money into their account and not transacting from theirs

Chances of phishing could increase as some scammers could use this to get money from customers account using UPI Collect functionality

Use Cases

Refunds to customers

Cashback to customers

Game-Winning payouts

Industries

Ecommerce

Travel

Lending

Gaming
Razorpay launched automated receipts on payment pages
I am not very clear on why this is a launch when this seems to be a very normal offering that RazorPay provides

Source:
Paytm

's PostPaid product which is spend now, pay next month option has been opened to use at local kirana stores.
Quite a decent extension to their PostPaid product to encourage local purchases.
Paytm

launched scan to order service for you to safely order food while dining out
Pretty neat launch for maintaining customer and restaurant hygiene, safety and social distancing norms - Order from your phone by scanning the QR code of the restaurant
For customers:

They will get to see the restaurant menu, place the order, and pay bills from the phone itself.

Hey, can I also use Paytm postpaid for that?
For restaurants:

They can load and update their entire menu easily

They can promote instant discounts and cashback, maybe the meal of the day, loyalty points, etc to the customer

I am also thinking, maybe add customer feedback, show customers the most ordered meals and a couple of other features which would prompt customers to continue using it
Instamojo

Dynamic QR Code: Scan a Payment Link to Pay!
Zerodha Makes

TOTP

Mandatory to counter phishing
Zerodha has added a new security layer after seeing a lot of phishing that has happened on their platform recently.

The TOTP makes the logging in more secure with a time-based OTP that needs to be entered at the time of login. This can be done via some of the apps like Microsoft Authenticator and Google Authenticators

Considering, how large applications are susceptible to phishing and scam, this should be rolled out by large multi-utility platforms where our banking details and payment details are stored.
Zerodha

Margins

on Kite Window
This is a great and much-needed upgrade by Zerodha.

Every time you create an F&O and intra-day trading, you want to know how much margin you need. It is a hassle to try and test the amount of margin needed which would lead to loss of opportunity to trade due to the volatility of the markets

Zerodha had provided a calculator for that. But now you can actually get to see the margins when you are creating a trade.
💲 Funding
25

Fintech

companies in the payments, insurtech, lending, trading sector have received incubation from IIMB and will receive funding from ICICI securities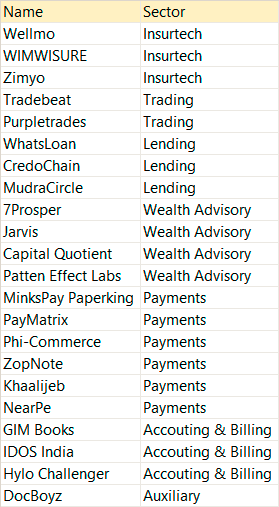 POS (Point of Sale) Provider

Innoviti

Raises Series C funding for an undisclosed amount and valuation
They plan to use the funds to expand the scope of its customer-centric payments service by designing different solutions for different market segments.
I smell opportunity in the merchant's payment space!
---
💪 Partnerships
PhonePe partners with ICICI Lombard for Travel Insurance
Multi-trip domestic travel insurance at Rs.499 for a year which covers trip cancellation, home burglaries, and all the commute (air, road, and train) under the sun
---
📅 Previous Week's followup
What is SoftPOS?
I mentioned last week how the launch of SoftPOS is going to onboard merchants faster. Here is a simple visualization to elaborate on the same:

However, the RBI prohibits transactions over Rs.2,000 for NFC (Near-Field Communications) payments, so my best guess is that the merchants will still have to operate both the POS (machine-based and SoftPOS) till these restrictions are lifted or there is a mechanism to add 2-factor authentication for larger payments which I believe would happen once SoftPOS picks up

I am going to expand on this further in the next couple of weeks.
Hey, you made it here!

If you liked the content, you can buy me a coffee as an appreciation to the newsletter!

And do take out the time to leave comment, share and subscribe to the newsletter.
Disclaimer: The newsletter contains information about Fintech and Organizations that operate in or around the fintech industry. The information is not advice, and should not be treated as such. Without prejudice to the generality of the foregoing paragraph, we do not represent, warrant, undertake, or guarantee ... that the information in the newsletter is correct, accurate, complete, or non-misleading. We will not be liable to you in respect of any special, indirect, or consequential loss or damage. If a section of this disclaimer is determined by any court or other competent authority to be unlawful and/or unenforceable, the other sections of this disclaimer continue in effect.